Wyland
Art, Community, Conservation
Renowned marine life artist Wyland changed the way people think about our environment when he started painting life-size whales on the sides of buildings in the 1980s. Wyland always thought big. And he never stopped.
Today, the Wyland name has become synonymous with the new generation of awareness about environmental conservation. Through his unique marine life paintings, sculptures, and photography, Wyland has inspired a generation about the importance of marine life conservation. His life – like his art – can find him anywhere around the world, at any time, from the Antarctic ice shelf on a photo expedition to document climate change to a grassroots journey down the Mississippi River on a mission of conservation. (continue reading below)
Browse Wyland's Artworks
by clicking on the first image.


Please use our convenient contact form to inquire about his art
and current available limited editions.
WYLAND PAINTINGS
DISNEY
LUCITES
BRONZES
For immediate assistance please call us at…
305-292-4998


Wyland Gallery Key West
941-388-5331


Wyland Gallery Sarasota
Wyland
The multi-faceted artist, scuba diver, educator, and explorer has hosted several television programs, including, "Wyland's Ocean World" series on the Discovery Channel's Animal Planet Network, "Wyland: A Brush With Giants" and "Wyland's Art Studio," a series for national public television. His mission of engaging people through nature-themed art and a more environmentally friendly lifestyle has led to strategic alliances with such notable organizations as the United States Olympic Team, United Nation Environment Program, and Walt Disney Studios, to name a few.
Wyland's 100th and final Monumental Marine Life Mural, Hands Across the Oceans, a 24,000-square-foot, half-mile-long series of canvas murals with student artists from 110 countries, was displayed in October 2008 at the National Mall in Washington, D.C., and honored by the National Park Service, Smithsonian Institution, White House Council on Environmental Quality, and the U.S. Department of the Interior. In May 2010, the United Nations released six Wyland images for an international stamp issue celebrating the 50th Anniversary of the Intergovernmental Oceanographic Commission.
Since 1993, the non-profit Wyland Foundation has set the standard for environmental outreach. In partnership with the United States Forest Service and National Oceanographic and Atmospheric Administration (NOAA), Wyland is actively engaged in teaching millions of students around the world to become caring, informed stewards of our ocean, rivers, lakes, estuaries, and wetlands.
The enormous extent of Wyland public artworks (it is estimated that his murals are viewed by more than a billion people every year), his award-winning art galleries, and community service projects have made him one of the most recognized and beloved artists in the nation.He is considered one of the most influential artists of the 21st Century, with artwork in museums, corporate collections, and private homes in more than one hundred countries.
One of America's Most Unique Creative Influences
Marine Life Artist Wyland has earned the distinction as one of America's most unique creative influences, and a leading advocate for marine resource conservation. An accomplished painter, sculptor, photographer, writer, and SCUBA diver, he has traveled the farthest reaches of the globe for more than twenty-five years, capturing the raw power and beauty of the undersea universe.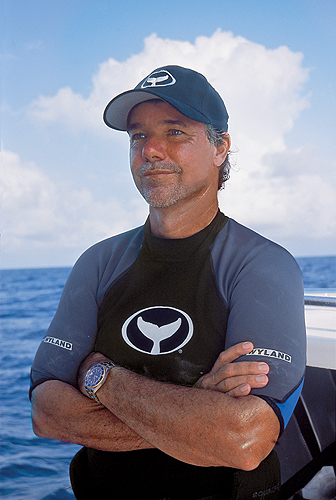 His non-profit Wyland Foundation has supported numerous conservation programs since 1993, including Wyland's monumental Whaling Wall mural project — an epic series of more than ninety-one life size marine life murals that spans twelve countries on four continents, and is viewed by an estimated 1 billion people every year. The artist's efforts, moreover, have been recognized by the United Nations, Sierra Club, the Underwater Academy of Arts and Sciences, where he is listed among its Diving Hall of Fame, and private and public institutions throughout the world.
Hailed a "Marine Michaelangelo" by USA Today, Wyland's work is sought by millions of collectors and his galleries throughout the United States are considered a must-see on the itineraries of travelers everywhere. His equally successful Wyland Foundation, in partnership with the Scripps Institution of Oceanography, is actively engaged in teaching millions of students around engaged in teaching millions of students around our oceans, rivers, lakes, streams, and wetlands.
Listed in Who's Who in American Art, the Guinness Book of World Records, and many other national and international publications, the multi-faceted artist has even hosted several series for television, including, "Wyland's Ocean World" on the Discovery Channel's Animal Planet Network. Today, he is considered one of the most influential artists of the 21st Century, with artwork in museums, corporate collections, and private homes in more than one hundred countries.
Quotes
QUOTES: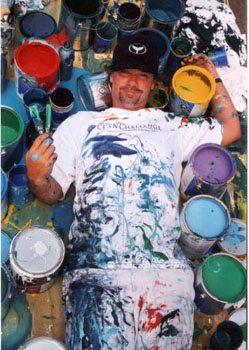 "The artist Wyland has been "green" since the early 1970s, so it is high time the rest of the world caught on to the idea that saving the planet is a way cool thing to do."
— Mobile Press Register (September 16, 2007)
"Wyland is a Marine Michelangelo."
— USA Today (September 30, 1993)
"Wyland is considered by many to be the finest environmental artist in the world. "
— The Congressional Record, Vol 139, No. 112-Part II
The United Nations proclaims Wyland the official artist for the International Year of the Ocean, 1998.
— United Nations (1998)
"Your organization is making an invaluable contribution to effort to promote environmental awareness among our youth and to encourage them to continue their own efforts."
— Al Gore, Vice President of the United States (August 13, 1997)
"Your larger than life murals across the country have the awareness of our precious ocean resources."
— Daniel K. Inouye, United States Senator (June 6, 1997)
"Your ongoing endeavors to inspire and educate young people marine life and the beauty and fragility of the ocean are deeply appreciated."
— Honorable Kofi Annan, Secretary General of the United Nations (May 28, 1998)
"Wyland brings the voices of the great and intelligent of the sea from the depth of the oceans into the hearts and lives of hundreds of thousands of people around the world."
— Jane Goodall, scientist and author
Please Contact the Gallery for an Updated List of Currently Available Wyland Paintings, Lucites & Bronzes.