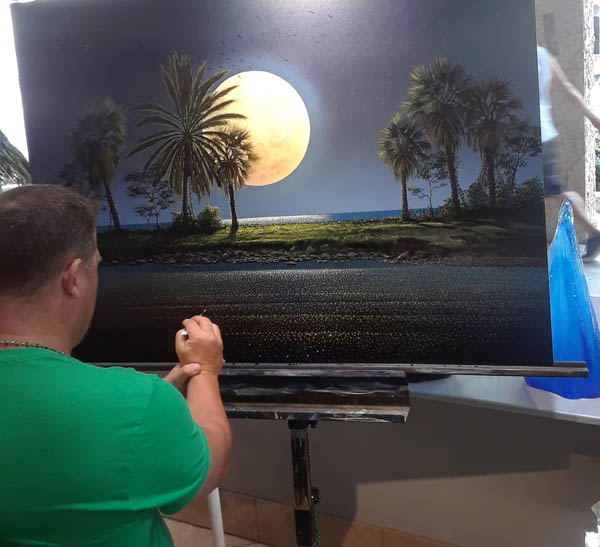 Join us for LIVE EXHIBITIONS with
Stephen Muldoon
Stephen Muldoon – Art on Metal
World-renowned artist Stephen Muldoon has pioneered innovative techniques, mediums, and processes that revolutionize the viewer's interaction with his artwork on metal. By employing special paints and employing intricate layering methods, Muldoon transcends the limitations of traditional canvas, breathing new life into his creations. Each piece undergoes an elaborate transformation, as he meticulously applies 16 coats of clear paint, wet sanding between each layer, culminating in a perfected polishing and buffing process that produces a striking mirror-like finish, aptly named the "Ferrari finish."
The utilization of these exceptional paints on metal elevates the archival quality to unprecedented heights. Concerns such as UV damage, fading, humidity, and moisture become trivial, as Muldoon's artwork defies these hazards. With an unwavering conviction, Muldoon envisions this as the future of art, where the marriage of unique materials and techniques sets a new standard in the artistic realm.
For immediate assistance please call us at…
305-292-4998


Wyland Gallery Key West
941-388-5331


Wyland Gallery Sarasota
Wyland Galleries of the Florida Keys offers the best and most impressive FRAMING available in the market to further elevate the prominence of your Highly Prized Collectibles!