Michael DeWulf
"I'm definitely an artist who reflects what inspires me. My work is more of a response than an act."
Being a single father of 3, Time is precious. I still manage to paint every single day. Mostly in the evening. If i miss a day, I feel it. I usually have a few backgrounds ready. I like to work on multiple pieces at once. If I run out of juice on one piece, I jump to another. It keeps my process fresh. During my day, I search for things that inspire me. It's pretty easy living on the beautiful Gulf Coast of Florida. My gorgeous girlfriend Mindy is an amazing source by herself. My twin daughters watch me paint a lot, I love to get their thoughts about a piece. Young fresh eyes, and as with all children, they can be brutally honest with me.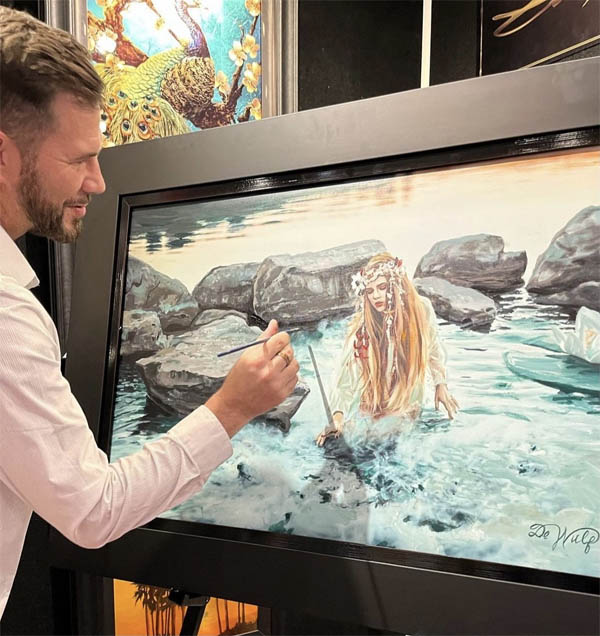 Michael DeWulf
Artist Statement
People often ask me what inspires me. That is such a difficult question for anyone creative to answer. I believe inspiration comes in many ways. It can come from the people we love, the colors in a sunrise, perhaps a song you haven't heard in a while and forgot existed. I paint so much that i search through the things that make me feel some type of way. Then I harness that emotion. I document it. Its almost like a Love song being authentic only because it was written with those feelings on the musicians heart. I'd say the biggest thought in my mind while working through a piece is how I hope it to be one of someone's most prized possessions. Something they might pass down to their children someday, and so on…"
I got a feeling
"People often ask me about my subject matter. Or they ask "what made you paint this?". My response is simple. I want to have a hyper realistic piece that shows my skill in color and light of course. Most importantly I want to relay an emotion. I want each piece to be more than what's on the surface. So, I suggest things and let the viewer fill in the blanks. I suppose I should call my work "Hyper-Surrealism". Because surrealism is intended to provoke a thought or a feeling. Thant's exactly what I intend to do." 
In 2021, Michael DeWulf painted well over 100 originals.
Browse a beautiful selection of Michael DeWulf artworks for sale, right here Wyland Galleries Sarasota.  His beautiful Airbrush, Acrylic, Gouache & Oil paintings evoke feelings of sensuality, love, unity, hope and eternity. Beautifully orchestrated pieces, enhanced in contrast & depth by his great knowledge of color & light.