WYLAND GALLERY SARASOTA
Dino Rosin
Dino Rosin was born in Venice on May 30, 1948. His family moved to the glass-making island of Murano when he was two months old. At the age of twelve he left school and began work as an apprentice at the prestigious Barovier & Toso glassworks. There he learned from the best masters of that period, each with a different skill, giving Dino a rare opportunity to learn many aspects of glass. He remained at Barovier & Toso until he joined his brothers, Loredano and Mirco, at their factory, Artvet, in 1963.
Eventually, Loredano and Dino joined Egidio Costantini of Fusina Degli Angeli. There they collaborated with the most famous artists of the time: Picasso, Chagall, John Cacto Caborsie, to mention a few. That sculptural experience of creating the ideas of the world's great artists shaped Dino's future.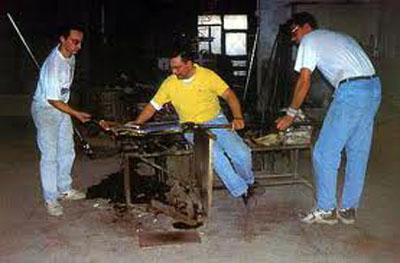 In 1975, Loredano opened his own studio, taking Dino with him. In 1988, they were invited for the first time to teach and demonstrate "Massiccio" at the famous American glass school, Pilchuck. There they worked with the American glass artist, William "Billy" Morris. Dino worked side by side with Loredano for twenty-five years as his right hand in the "piazza" and as a master in his own right in cold work. Loredano died in a tragic boating accident in 1991. Soon after, Dino re-organized the Studio. His son Diego came to work there as soon as he finished design school. Together they make a formidable team. In the summer of 1998 they taught together at Pilchuk Glass School (and have returned again and again.) They also teach at the Corning Museum School.
Perhaps most important to the success of Dino's sculpture is his use of the material called "Calcedonia." Dino rediscovered the formula for this unique, striated glass in the early 1980's and has continued to improve the coloration. Today he is able to achieve brilliant cobalt blues, deep rose and even a fiery red. Each piece is different; the exact flow of lines and color of Calcedonia cannot be duplicated.