Barry Stein
Inspired by an intense love of nature, self-taught Oregon artist Barry Stein spends hours in the wild researching the wildlife and their surroundings that come to life in his world-renown bronze sculptures.   Currently, Barry's work can be found in prestigious collections throughout the world, and are presently on display in The Waldorf Astoria Hotel New York City, The New York Hilton Hotel, New York Essex House, Hyatt Regency, The Venetian Hotel in Las Vegas, the Hilton Hotel in Honolulu, and galleries in many states throughout the U.S. as well as galleries in England, France and Germany.   Barry's wildlife sculptures have been presented as gifts by our government's executive branch to foreign heads of state. (continue reading below)
Barry Stein
Rather than start his process in clay, as most bronze artists do, Barry begins by carving his wildlife art creations in wood.  The relative softness of clay or wax allows for corrections, which can make the process much easier.  But wood, the more difficult medium, offers the artist the option of more detail.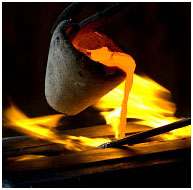 Once a carving is completed, the process of converting the figure into bronze begins: the making of an initial mold, then the wax casting which creates the shape of the final mold into which the molten bronze is poured, followed by the actual casting of the sculpture.   Painstaking cleaning and polishing are followed by the application of the patinas that give the figure its final beautiful coloring.
Sharing the beauty of Mother Nature is the focus behind Barry Stein's artistry.   With a clear understanding of an animals behavior and anatomy, Barry focuses on each small detail that will make his sculptures come to life,  whether that be the subtle contours of a frog, the minute details of an  eagle's feathers, the musculature of a pair  of clashing elk, or the details of the forest floor that  form the base of his larger works.
Barry's western sculpture, his beautiful bronze elk, horses, eagles and other wildlife, and his whimsical frogs make memorable gifts.  Take a look around, admire the variety and detail of Barry's work and select your very own limited edition Barry Stein original.